Plan Your Next Birthday at Gym Zone

Birthday Parties
Looking for an for a fun and exciting venue for your child's next birthday?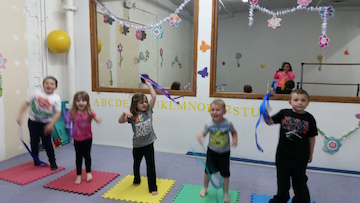 Kids love birthday parties at Gym Zone. We organize the activities, fun and games and keep your child safe.
LET'S PARTY - When you celebrate at The Zone the party NEVER ENDS!!!
Let us help you plan the perfect birthday bash! At our birthday parties children will get to participate in all kinds of fun activities such as gymnastics, cheerleading, dance, music, rope swinging, obstacle courses, and much much more!
Birthday packages include 1 hour of floor/activity time and 30 minutes in our party room. It is FUN for all ages!
Floortime includes a combination of games, trampoline time, relay races, rope swinging, music, and more!
We have a party room great for cake and ice cream as well as lots of space to tear into all the presents at the end!
Our specially trained staff have the party-goers safety as their #1 concern.
All our parties are unique, age-appropriate, and designed to be FUN, FUN, FUN, for everyone!
Parties are generally scheduled on Friday, Saturday, and Sunday. Just ask if you need special accommodations!
Your kids are going to "flip" for our birthday parties!!! Each Party Package is 90 minutes of fun, fun, fun!!!!!!!!
Bring in your special decorations and set up your fantastic party 15minutes before the party:)
From beginning to end you will ENJOY the celebration! Call the office at 217-757-ZONE (9663)
... reserve your spot today!!
Party Package Options
You provide presents, refreshments, cake, candles, matches, plates, utensils, cameras and......the kids!
1 – 12 kids
$ 125.00

16 - 24 kids
$ 165.00

parties over 24 kids needs special arrangement. Please call office for details.
Party Deposit
All parties require a $25.00 non-refundable deposit due at the time of scheduling to ensure your time slot. (This amount will be applied to your total due)
From beginning to end you will ENJOY the celebration! Call the office at 217-757-ZONE (9663)